Heavy Duty Clutches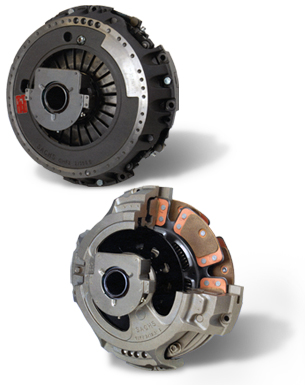 Canada Wide Parts Distributors LTD. has one of Canada's largest inventories of heavy duty clutches. Each of our locations across Canada stock a variety of popular brands including Sachs, Eaton, Meritor, Rockwell and Lipe covering the widest range of applications possible. At Canada Wide Parts we are committed to providing you with quality products, superior customer service all at competitive prices.
Sachs 
ZF Sachs, one of the worlds largest manufacturers of clutch systems, produces over 41,000 light and heavy duty units per day. Innovations such as the Dual Mass Flywheel, Twin XTend TM Self-adjust clutch and ConAct Phneumatic Clutch Actuator are just some of the products ZF Sachs has developed that offer reduced torsional vibrations, increased clutch life and ease pedal effort for your vehicle. These innovations have made SACHS one of the top OE clutch suppliers in North America for Class 8 trucks. Made in the USA and backed by a 2 year manufacturers warranty ensures a top quality clutch that can meet all of your vehicle's clutch needs. 
Eaton
As one of the best known name brand suppliers of heavy-duty clutches, Canada Wide's inventory of Eaton clutches are unmatched in terms of their reliability, durability and performance throughout the commercial truck industry. Eaton offers clutches for the full life cycle of your vehicle and every unit sold must adhere to strict OEM standards. Some of the more popular manual and automated clutches from Eaton's extensive product line include the Angle Spring, Diaphragm Spring, Centrifugal Clutch, and the Electronic Clutch Actuation. 
Meritor
Canada Wide is proud to offer a wide selection of Meritor clutch solutions combining both a lightweight design and innovative disc technology. This all adds up to a more comfortable and smooth ride for the driver.
Lipe 
Lipe clutches offer more driver control and lighter pedal effort than an OEM clutch while still offering highest torque ratings at 2500 foot-pounds on a 15.5 inch clutch. Canada Wide Parts Distributors carries all Lipe Heavy Duty Clutches.
---