Heavy Duty Bearings & Seals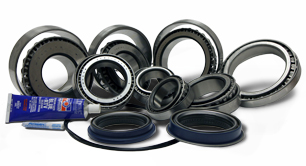 Canada-Wide Parts LTD.
has a large inventory of individual bearings and seals as well as complete bearing, seal, rebuild and overhaul kits, for
transmissions
,
differentials
and
transfer cases
.
A bearing is a part that supports, guides and reduces the friction of motion between fixed and moving parts. A seal is a soft part that is placed between the joints of two or more parts or components in such a way that it prevents leakages and minimizes contamination, reducing wear and friction between the parts, thereby prolonging the life of the parts. Although bearings and seals alone may not be a key component to your vehicle, they are both essential parts to keep your vehicle running properly.